Martial Art Classes for Preschool and Kindergarten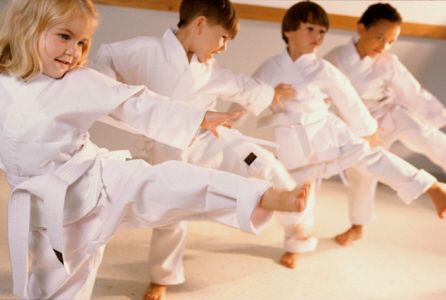 Tiny Tigers


There isn't much out there in the way of activities for the little ones , and they deserve something fun and athletic just as much as the bigger kids. We've been teaching Pre-school, and Kindergarten age kids in our Tiny Tiger class for 21 years and have developed a special curriculum and style just for them! They learn REAL Martial Arts, develop coordination and confidence, social skills and athleticism, all while having fun!

Call today for a free beginner lesson for your Tiny Tiger! 707-429-3744 or drop us a line with your name and number and a good time to get in touch and we'll be happy to give you a call!


Frequently Asked Questions:

Does it work? I mean, do kids stick with it and really learn something? From our experience and years to back it up, Yes! We have many students that have started at 3 1/2 and 4 years old and stuck with it for their entire lives. They've grown up in our classes! We've seen them go from Pre-School or Transitional Kindergarten all the way through College!
How old does my child have to be? 3 1/2 , potty trained and wearing regular underwear (no pull ups).
Will they be in class with older kids? If you mean older as in Kindergarten age and your child is pre-school then yes. If you mean kids that are much bigger like 2nd—6th graders then 'no'.
What do they wear? For their free class they can wear comfortable long pants (no shorts) and a t-shirt (no tank tops). If they decide to continue after that then they will wear a uniform.
I hear some schools don't let you watch, is that true here? No way! We WANT you to stay. In fact, at this age we don't want you to leave. It's important that children this age feel safe, and that you as a parent feel comfortable and know what is being taught so you can reinforce it at home!
My kid already likes to play Ninja Turtles and Power Ranger, is this going to make him or her MORE aggressive? The simple answer is no. In fact we hear the opposite. The children tend to want to teach others in a safe way and choose to emulate an instructor instead of a character. We also emphasize that they don't practice anywhere but home or at their Martial Art School.
Is this REAL Martial Arts or is it just playing games? These are REAL Martial Arts! Students will learn proper and effective techniques that they will be able to use throughout their martial art experience. Many of our Tigers have gone on to become Black Belts and several have become instructors (of course, they are much older by then...)!
What Martial Art is this? Karate is a general term now-a-days that represents a variety of martial arts. We use it to give an idea of what we do. Most martial arts are similar in many ways. Our traditional base is Taekwondo but we include elements of many styles including aikido, kickboxing, judo, karate, jiujitsu, kobudo and others. It pays to be a well rounded individual. They all have their strengths.
What do the belts mean? Each martial art style has different belt levels. Usually they denote the different abilities and techniques that a student has learned.
Are there classes for me or my older kids? Yes there are. Just ask us to highlight those classes on the schedule when you come in, and you can them out as well. It's a great way to relieve stress, learn something new and useful, and just have fun! We actually find that kids do even better when at least one parent takes a class (not at the same time of course) even if they can only come once in a while.